As of 2023, Jerry Seinfeld's net worth is a staggering $950 million, a testament to his enduring success and influence in the comedy world. This figure, reported by Celebrity Net Worth, places him among the wealthiest comedians globally. But how did Seinfeld amass such a fortune, and what are the key factors contributing to his financial success?




Jerry Seinfeld's journey to fame began in the late 1970s when he started his stand-up career. His unique observational humor quickly gained traction, leading to appearances on late-night shows. However, it was the launch of the sitcom Seinfeld in 1989 that catapulted him to international stardom. Co-created with Larry David, the show, often described as "a show about nothing," resonated with audiences worldwide for its humorous take on everyday life.





Seinfeld & Its Financial Impact
The financial success of
Seinfeld
is a significant contributor to Jerry's net worth. The show ran for nine seasons, becoming one of television's most popular and critically acclaimed sitcoms. Its syndication deals are legendary, generating billions in revenue. As
a co-creator and star
, Jerry received a substantial share of these profits. Even decades after its finale,
Seinfeld
continues to be a lucrative source of income for him.
Apart from his earnings from
Seinfeld
, Jerry Seinfeld's wealth also comes from various other sources. He has continued his stand-up career, touring regularly and performing to sold-out audiences. His return to the stage often garners significant ticket sales, contributing handsomely to his income. Additionally, Seinfeld has penned books and engaged in endorsement deals, further diversifying his income streams.
The Netflix Deal
In recent years, Jerry Seinfeld's partnership with Netflix has been a major financial boon. His show,
Comedians in Cars Getting Coffee
, originally aired on Crackle but later moved to Netflix, bringing a new audience and substantial revenue. Furthermore, his stand-up specials on Netflix, such as
Jerry Before Seinfeld
, have been well-received, adding to his impressive earnings.
Jerry's wealth is not just in liquid assets. He owns an impressive real estate portfolio, including New York and California properties. His real estate investments contribute significantly to his net worth. Additionally, Seinfeld is known for his love of cars, owning one of the most exquisite car collections in the world, particularly his renowned collection of Porsches.
Philanthropy & Personal Life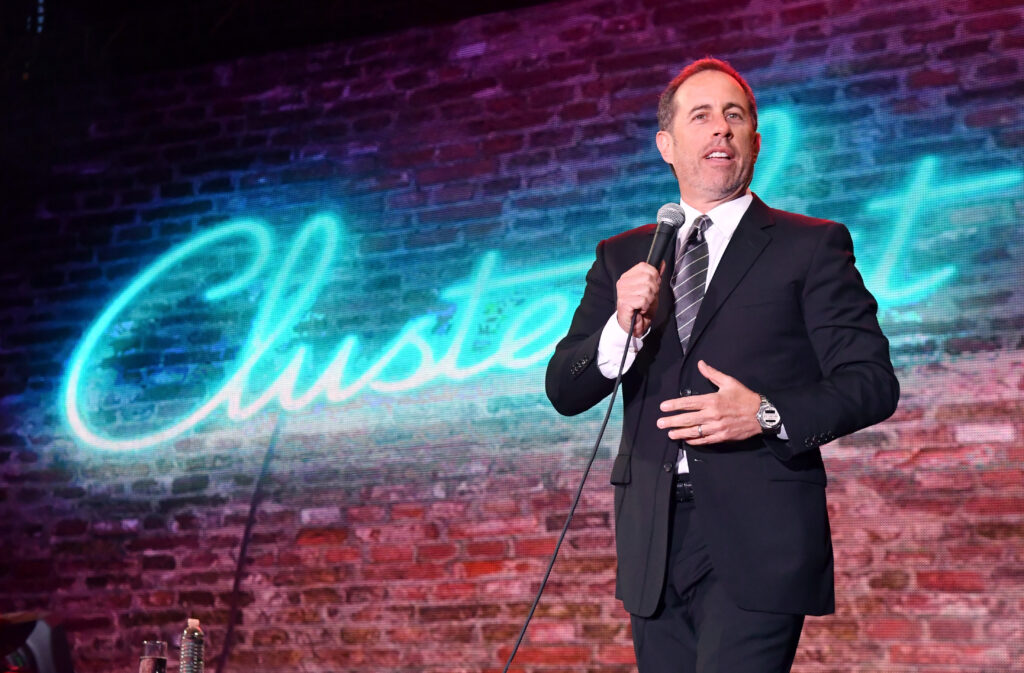 Despite his immense wealth, Jerry Seinfeld is also known for his philanthropic efforts. He supports various causes and charities, demonstrating a commitment to giving back to the community. His personal life, including his marriage to Jessica Seinfeld and their three children,
remains relatively private
. Jerry focuses more on his professional endeavors and less on publicizing his personal affairs.
Jerry Seinfeld's influence on comedy and television is undeniable. His approach to humor, focusing on the minutiae of everyday life, has inspired countless comedians. The financial success he has achieved is a reflection of his impact on the entertainment industry. As of 2023, with a net worth of $950 million, he stands as a towering figure in the world of comedy, his success extending far beyond the confines of the stage and screen.
Conclusion
In conclusion, Jerry Seinfeld's net worth in 2023 is remarkable, reflecting his talent, hard work, and business acumen. From his early days in stand-up comedy to the global success of "Seinfeld" and beyond, his journey is a testament to the enduring appeal of his brand of humor and his savvy in capitalizing on his success. Jerry Seinfeld remains not just one of the richest comedians in the world but also one of the most influential figures in modern comedy.
The post
Jerry Seinfeld Net Worth 2023: What Is The Comedian Worth?
appeared first on
HotNewHipHop
.
via:
https://www.hotnewhiphop.com/735440-jerry-seinfeld-net-worth
Share on Facebook
Comments