Diary of Diane Pennington 02/14/06 (Valentine's Day: Detroit Love)

It was a mid-winter wonderland, a magical vibrant city with people and life, a nightlife. It seemed like even though the snow was falling fast and tangling in my hair, everything was going to be alright. Women in mini-jean skirts or boots stood patiently in lines, huddling and holding umbrellas while big trucks rode past, looking for a place to park. As our limousine pulled up to the curb, I got out feeling like a movie star, stepping through the slushy snow. People were everywhere. Yet nowhere did I see the drug dealers or desolate poverty that Detroit was supposed to be. Instead, I saw a deadening determination to make it in the gleam of everyone's eye. Amazed, I linked arms with my girl as we were escorted into the private door and whisked into the ambience.



This was Michigan, Detroit. The Motor City. The Motown of the North, the original. Home of GM and Ford, who just laid of 33,000 workers, and constant coney islands. Its where Shady and Kid Rock claim, even though Kid Rock is really from Clarkston, a small city a hour into the Oakland county suburbs, which by the way is one of the nation's richest counties. Though not as well publicized, Detroit had race riots too and white flight hit the city hard. Northland, a suburb mall located just over the 8 mile border from Detroit, is the oldest mall in the nation and I remember taking the undependable D-Dot bus from 7 mile to go shopping there as a young girl. Fashion has always been a favorite Detroit past time, by the way, the best selling Foot Locker in the nation is located in the heart of Detroit's East Side. So it's "...pink gators, my Detroit players," like Biggie said. Yes, Detroit was hosting the Superbowl.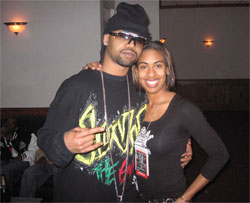 Rappers Juelz Santana, Twista, Juvenile, Ludacris, and Young Jeezy gave an exciting performance to a 5000+ crowd that Friday night. Backstage at the Rap Bowl, I got a chance to chat with Juvenile about what it feels like to leave his home. His newest album, Reality Check, was inspired by the devastation of New Orleans, and it hits stores March 7th.



We had something in common; Juvenile left his hometown because it was declared a disaster zone, and I left Detroit for much of the same reason. For years, the citizens of Detroit have struggled with an absent economy and a failing school system. In hopes of building a better future, I moved to Atlanta. When Katrina ripped through the city, Juvenile's house was destroyed and he had to relocate his family to Atlanta.



"New Orleans people are all over the country," he said, "And the insurance companies aren't doing anything."



Wow, I thought, even a G like Juvenile can't get a break when it comes to this disaster. They kicked everyone out of New Orleans by force or by flight. Though he has plans to rebuild his house in New Orleans and go back home, he is very concerned for the future of his city. Me too, I thought.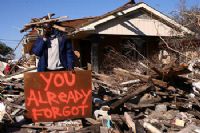 We have reached a new century, and times are rapidly changing. Juvenile agreed he was concerned about the upcoming crisis, as far as who would lay claim to the new city of New Orleans.


"They're gonna build it up to be a casino area," he said. Just like Detroit, I thought.

They are re-claiming
Send Blog ·
Share on Facebook ·
Bookmark on Delicious
Comments