After 10 years with Jive records, Joe Thomas is back with a new album and a renewed energy for his craft. More commonly known by the name JOE, the soul singer is now independent however he's still bringing the same quality album that you would expect from a major label. The album includes guest appearances from Trey Songz, Mario, Nas, Game, Busta Rhymes, Snoop Dogg and Diddy.





The new album entitled New Man was released on Tuesday, Sept 23.







| | |
| --- | --- |
| | Ain't Nothin' Like Me was your last album with Jive. You're out on your own now. How exactly did your breakup with Jive occur from a business standpoint? |





Joe: I just decided to make a move. I won my lawsuit against Jive and that pretty much says it all. That allowed me to go out on my own and do my own thing. It's an incredible thing to be independent.







| | |
| --- | --- |
| | Did you have to start using your full name Joe Thomas instead of just JOE because of the lawsuit? |




Joe: Well, it's not because they own the name or anything like that. I decided to add the last name because most people still have to sing a song to identify which Joe they're talking about in a conversation. There's a Fat Joe out there as well so adding that last name makes a difference.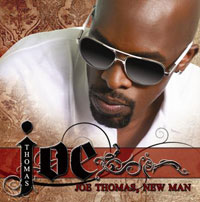 | | |
| --- | --- |
| | I read a previous interview where you said you intentionally haven't worked with other R&B artists in the past because there aren't a lot of driven R&B singers out there. What made you decide to collaborate with Trey Songz and Mario on We Need To Roll? |





Joe: I hear in conversation how much R&B is sort of still there but is not as strong as it could and should be. I looked at the impact that collaborations have had in hip-hop and how much it has seemed to help. I thought that might be a key element to bringing R&B a little more to the forefront. You have records like Secret Garden with Barry White, James Ingram, and those guys. If we have more records that, it would be a good look for R&B.







| | |
| --- | --- |
| | Out of all of the places that you've performed at during your career, what is your favorite location? |



Joe: Africa! Cape Town in South Africa is truly another place. If you haven't been, I would definitely recommend that you take a trip there.







| | |
| --- | --- |
| alt="BlackVibes:"> | Why should people go out and pickup your new album? |





Joe: It's an incredible album first and foremost. It's been a real expedition for me. The album is incredible. It's authentic music. It's real R&B. It's elegant. It's classy. Y'all are gonna love it!








Send Blog ·
Share on Facebook ·
Bookmark on Delicious
Comments