The Air Force 1 is one of the oldest trainers still in production and has had a rich history since its release in 1982. Initially, it didn't enjoy much success on the market but was re-released in 1986 and has since become an iconic sneaker. Over the years, the AF1 has been released in many colorways and variations and has been used in collaborations with famous brands in streetwear and fashion.




Colorway options for Air Force 1s are not limited to collaborations and limited releases. Some of the best colorways come from general-release sneakers that are readily available. Here, we have compiled a list of Air Force 1s that are currently available and worth considering. They may sell quickly, so act fast if you find something you like.





Air Force 1 "Triple White"
Considered by many as the perfect all-white sneaker, the AF1 "Triple White" is an iconic shoe that started it all. No best Air Force list is complete without it. This sneaker is reliable and suitable for daily use. Look no further if you need a dependable pair of shoes.
Air Force 1 "Triple Black"
The AF1 "Triple Black" is a great alternative to the "Triple White" and is perfect for winter months when you want to avoid getting your white sneakers dirty. With a simple, all-black design, this sneaker pairs well with darker outfits, especially in Autumn and Winter. Check out the high-top version for a great winter sneaker option.
Air Force 1 '07 Black/White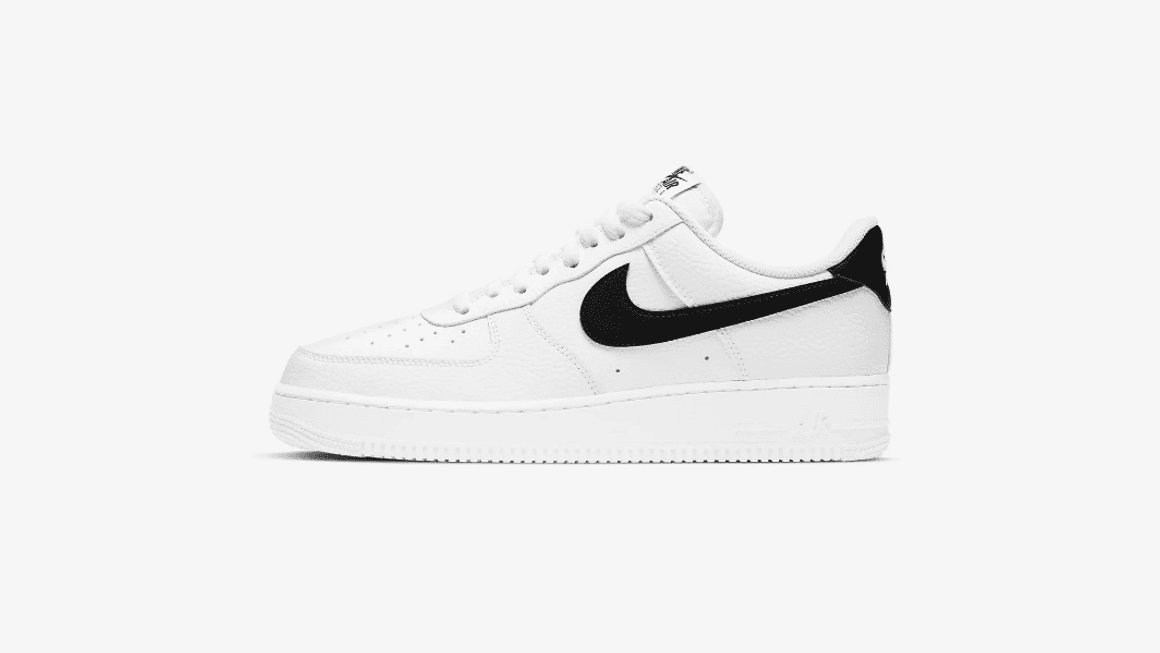 The Air Force 1 '07 Black/White offers the perfect balance of yin and yang for those seeking an option between the classic "triple black" and "triple white" colorways. The iconic white base is complemented with a black Swoosh on both sides, resulting in a stylish and easy-to-wear shoe that's hard to go wrong with.
Air Force 1 Gore-Tex "Olive"
The Air Force 1 Gore-Tex is a popular winter shoe designed for the UK weather
. Its waterproof Gore-Tex material and sturdy build make it a great choice for outdoor activities during the rainy months. The AF1 Gore-Tex "Olive" is our preferred colorway due to its dark and versatile tone. Pair it with cargo pants and a waterproof jacket to complete a practical and stylish outfit that can brave any storm.
Air Force 1 "Wheat"
The Air Force 1 "Wheat" is a highly sought-after sneaker every fall
due to its completely tan nubuck upper, matching sole, and hiking-inspired rope laces. Its luxurious earthy tones make it stand out from the rest. It's the perfect addition to your fall sneaker rotation.
Nike Air Force 1 UV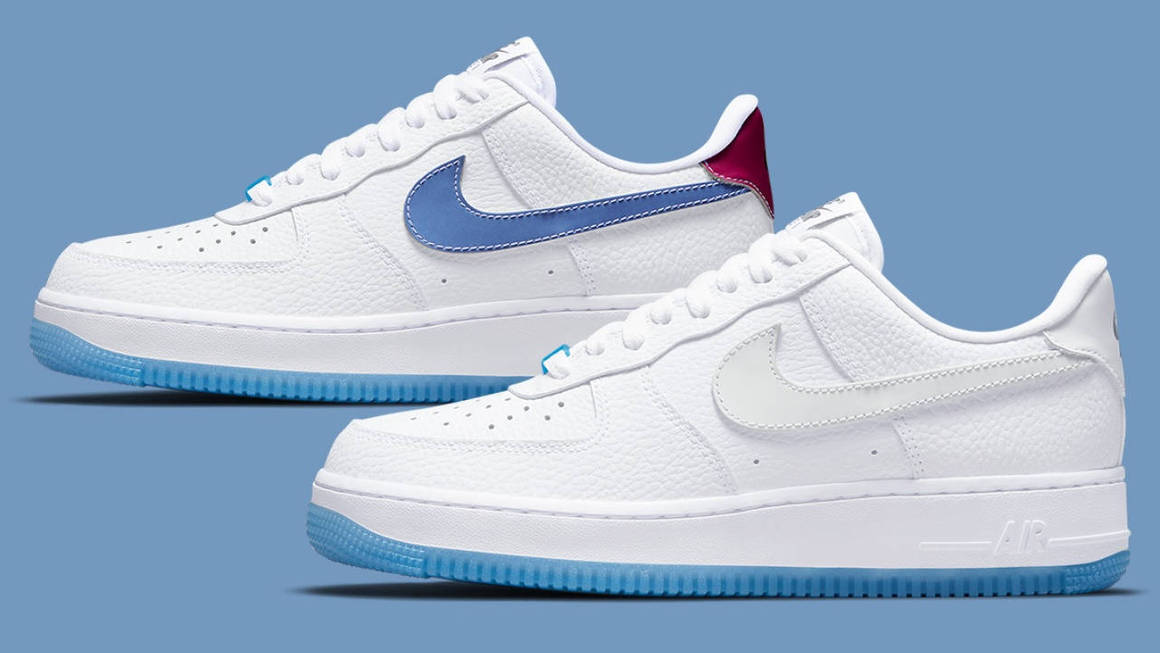 The Nike Air Force 1 UV is a recent addition to the iconic line of sneakers. It showcases Nike's continual innovation with the timeless silhouette. At first glance, it may appear to be a classic all-white shoe with a pop of blue on the insole. However, the Swoosh and back panel detailing are made from a reactive fabric that changes color once exposed to sunlight. This unique feature transforms the sneaker on a sunny day, injecting a pop of color that'll elevate any outfit.
Nike Air Force 1 Multi Swoosh
Nike's Air Force 1 sneaker is an iconic silhouette that is widely recognized for its large Swoosh logos on each side. However, Nike has recently introduced a new rendition of the classic all-white colorway, known as
the Nike Air Force 1 Multi Swoosh
. This version replaces the larger Swoosh logos with multiple smaller mini-swoosh logos, creating a distinctive and unconventional look for the shoe.
Nike Air Force 1 Tear-Away "Arctic Punch Sesame"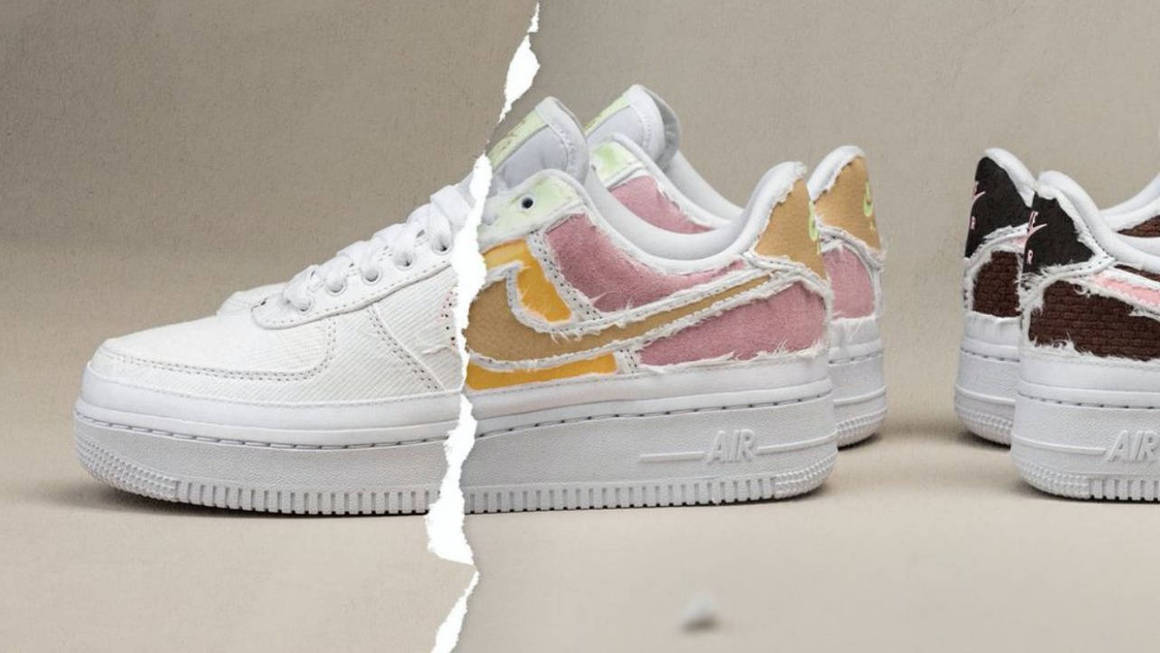 Nike's Air Force 1 Tear-Away is a fresh take on the classic silhouette. It is designed to allow wearers to customize their sneakers to their own unique style. Despite appearing as an all-white shoe, the top layer can be easily torn away to reveal a bold, colorful design underneath. Whether you choose to tear up the entire shoe or just certain sections, the possibilities for personalized expression are endless with the Air Force 1 Tear-Away.
Nike Air Force 1 Shadow "Coconut Milk"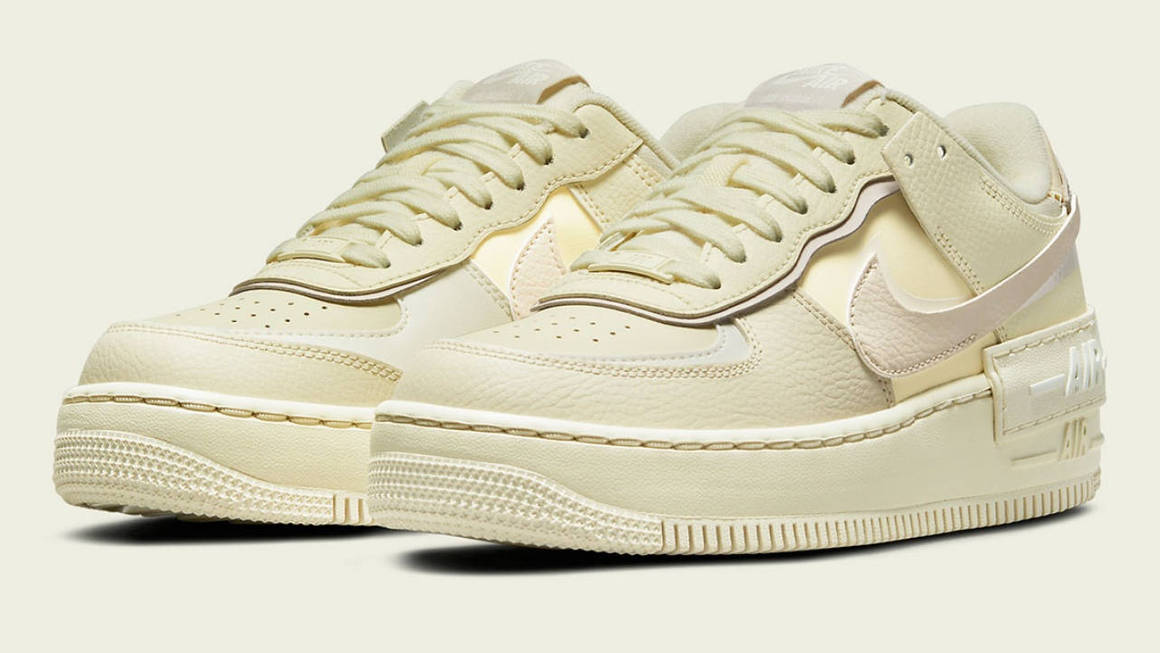 For those seeking a more unique take on the classic all-white colorway, the Nike Air Force 1 Shadow "Coconut Milk" offers a deconstructed aesthetic, complete with intricate details and a slightly worn, vintage feel. With its 'Shadow' variation, the AF1 has been updated with a fresh new look. It appeals to sneaker enthusiasts looking to add a bit of flair to their outfits. Discover the perfect blend of vintage and modern style with the Nike Air Force 1 Shadow "Coconut Milk".
Nike Air Force 1 "Psychic Blue"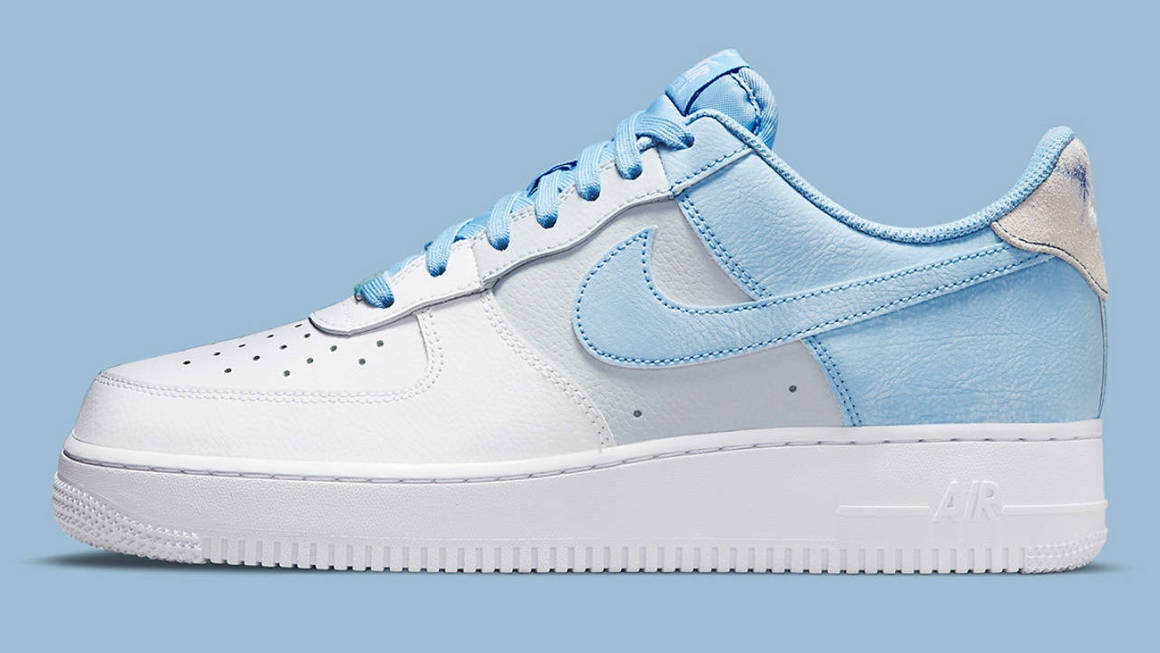 Looking for a summer shoe that's not too loud or in your face? Check out the Air Force 1 "Psychic Blue". With a subtle tie-dye effect on the back tab and a simple blue and white color scheme, these sneakers are perfect for those who want to keep it low-key while still staying stylish during the warmer months. These Air Force 1's are a great addition to any summer wardrobe.
Nike Air Force 1 Crater "Orange White"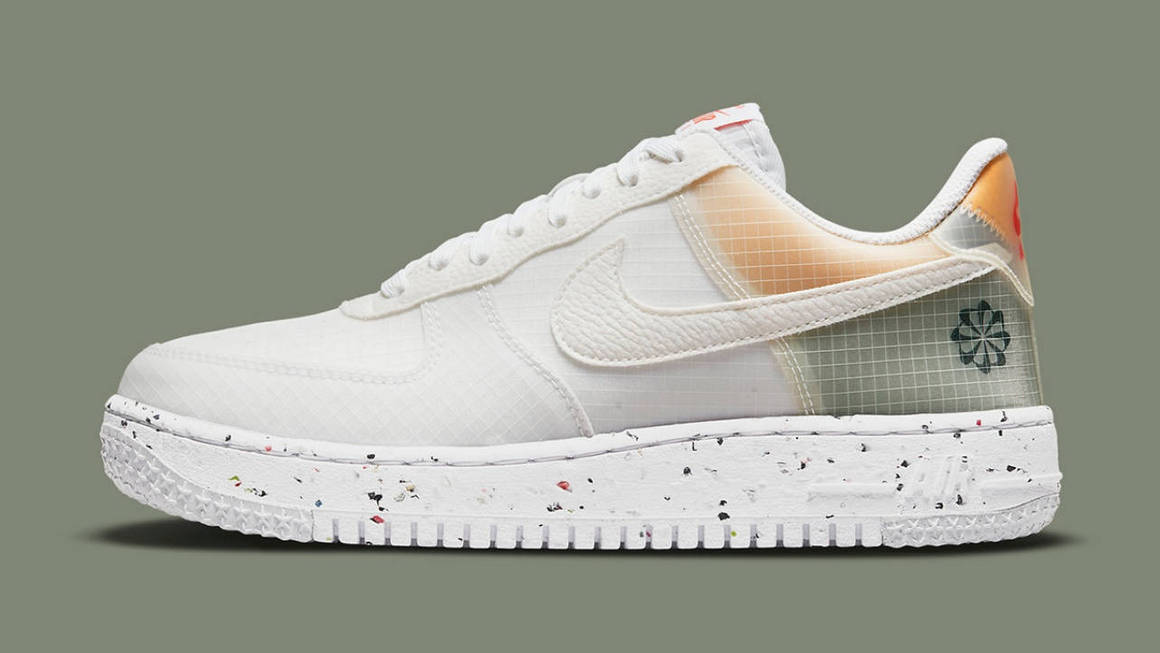 Air Force 1 has gotten a modern, sustainable update with the release of the AF1 Crater. This new variation of the classic sneaker features recycled materials and boasts a more futuristic look. The AF1 Crater is quickly becoming a top pick for those looking for a stylish and environmentally friendly option. It's a must-have silhouette for anyone looking to stay fashion-forward while also being conscious of their impact on the planet.
Nike Air Force 1 "Love Letter" (2021)
The Nike AF1 "Love Letter" is the perfect shoe for both Valentine's Day and everyday wear and was released just in time for the holiday in 2021. With its pink and white color scheme and touches of red, this sneaker is a great option for romantic occasions. An added detail on the tongue is a sweet surprise: a hidden message tucked behind a button. If you want a unique sneaker option that shows your love for that special someone, the Nike AF1 "Love Letter" is a great pick.
Nike has a history of collaboration and has teamed up with a wide range of partners, including streetwear giants like Supreme and
Travis Scott
, and fashion powerhouses like Louis Vuitton. If you're on the lookout for something more distinctive and exclusive, there are several rare and exclusive Air Force 1 collaboration colorways that are well worth exploring. These collaborations offer a unique twist on the classic sneaker and allow you to express your individual style.
Supreme x Nike Air Force 1 "Triple White" (2020)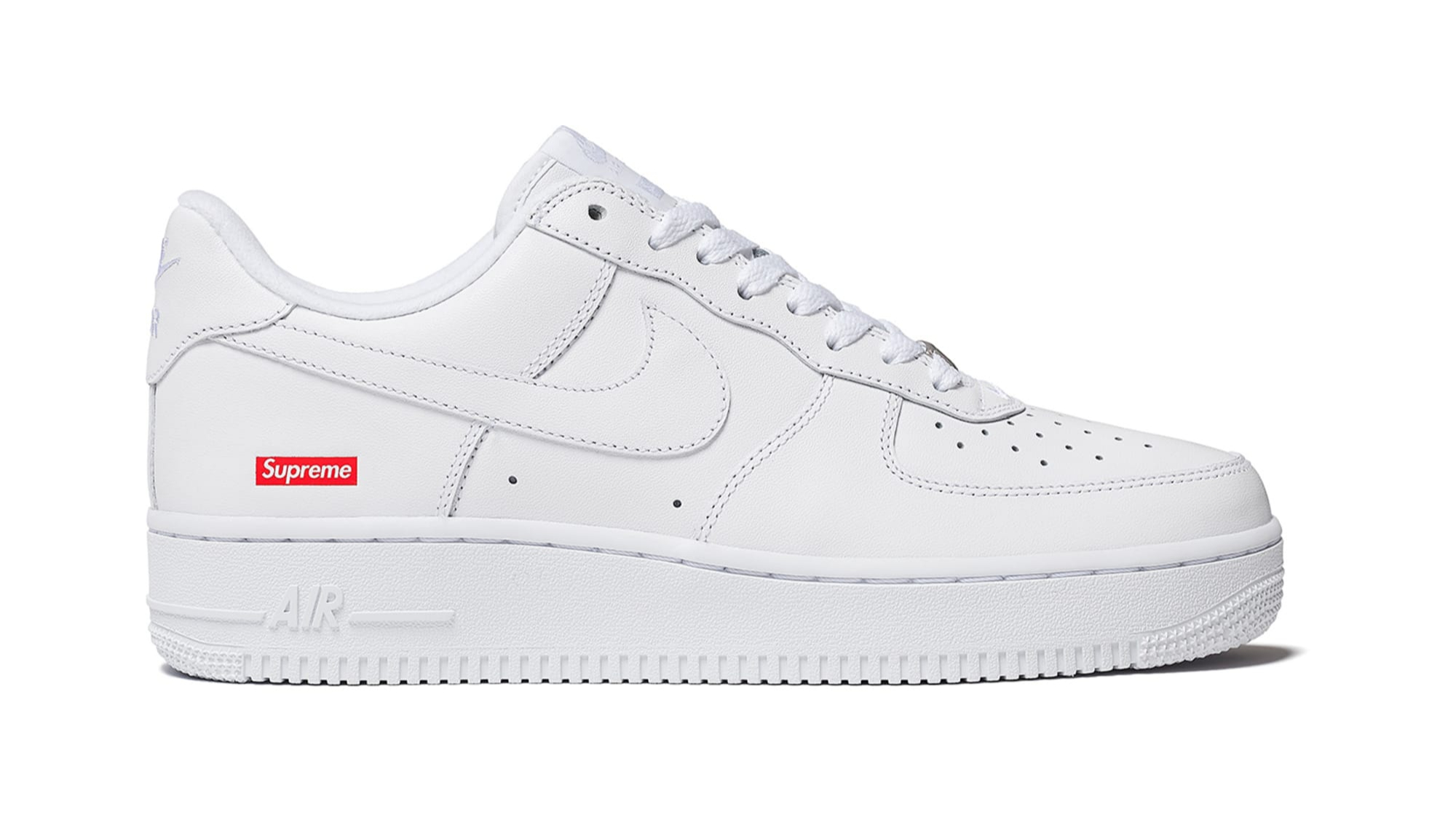 Nike sneakers have a history of successful collaborations, and their partnership with Supreme continues to impress with the Air Force 1 "Triple White". Transitioning from loud designs to a subtle twist on the classic Air Force 1, this collaboration features a Box Logo on the back heel. This sneaker has proven to be popular and is typically quick to sell out during restocks - so act fast if you're looking to add it to your Nike sneaker collection.
Travis Scott x Nike Air Force 1 'Cactus Jack' (2019)
Travis Scott has made a name for himself in the sneaker world over the past few years and his 2019 collaboration with Nike,
the Air Force 1 "Cactus Jack," is a standout contribution to the world of kicks.
Featuring a one-of-a-kind design and utilizing premium materials such as suede, corduroy, canvas, and leather, these shoes have an unforgettable style that includes a strikingly mismatched print in complimentary tonal hues. It's no wonder that the "Cactus Jack" has become one of the most iconic AF1 colorways of all time!
Louis Vuitton x Nike Air Force 1 (2021)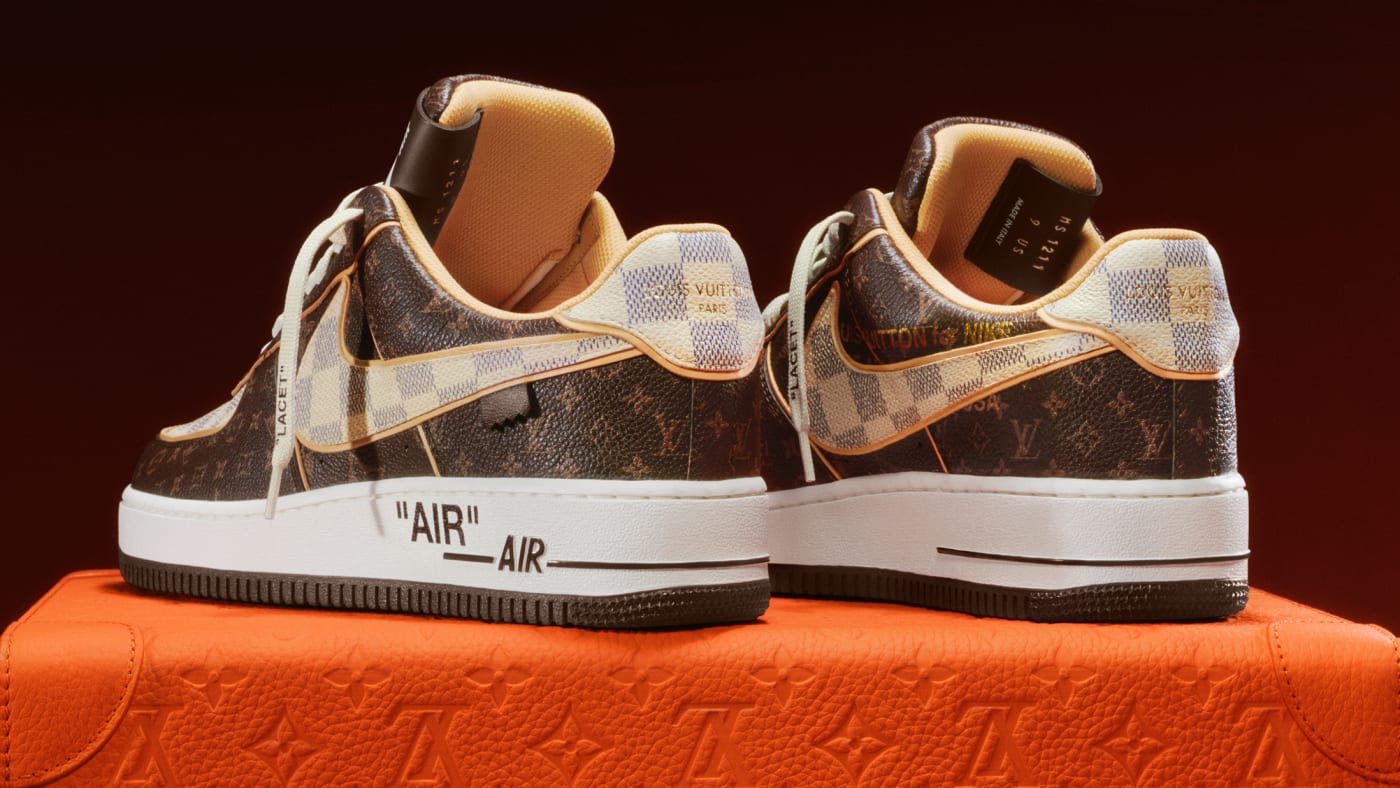 Louis Vuitton's Spring-Summer 22 Fashion Show made a splash not just because of their eye-catching clothing but also because of their choice of footwear.
The collaboration with Nike designer Virgil Abloh featured Nike Air Force 1s in the Louis Vuitton house style.
This highly anticipated sneaker release has already caused a buzz before any release date has even been announced.
Playstation x Nike Air Force 1 (2006)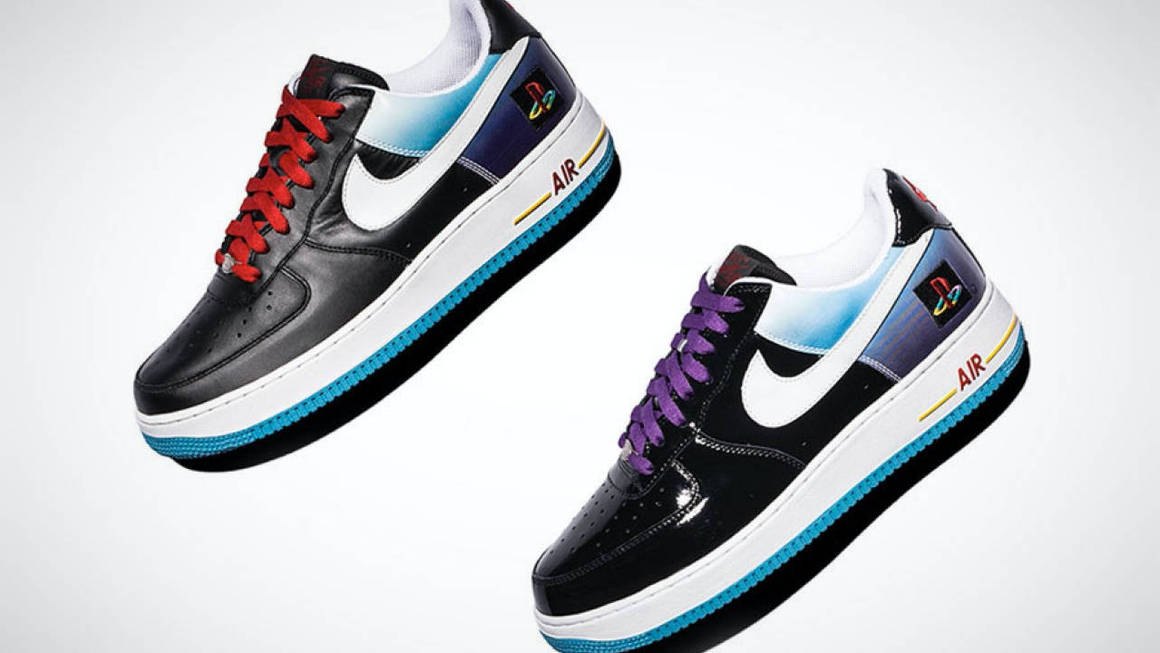 The original Playstation x Nike Air Force 1s are extremely rare sneakers, with only 150 pairs made as a promotional tool to commemorate the launch of the PlayStation 3. They were gifted to friends and family of Sony employees. They feature a sleek black patent leather upper with the recognizable 'PS' logo on the heel. Due to their scarcity, they are highly coveted and can cost thousands of dollars in resale value, depending on the size.
Stussy x Nike Air Force 1 "Fossil Stone" (2020)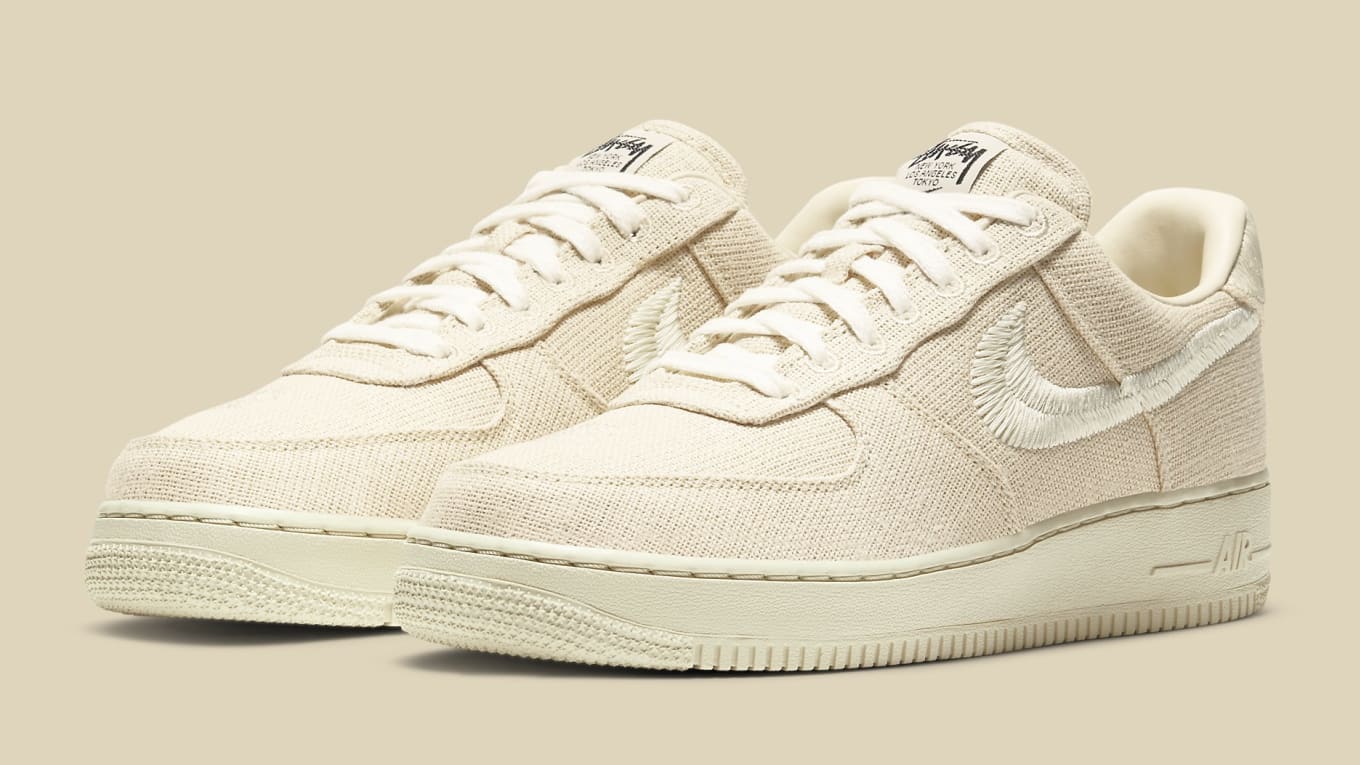 Nike and Stussy have a reputation for highly coveted collaborations in streetwear and sneaker cultures. In 2020, they released the Stussy AF1 "Fossil Stone", which is considered one of the top releases of the year. The shoe has a clean and simple design with Stussy branding on the back heel tab and a hemp upper, making it elegant and adaptable.
Comme des Garcons x Nike Air Force 1 Mid White (2020)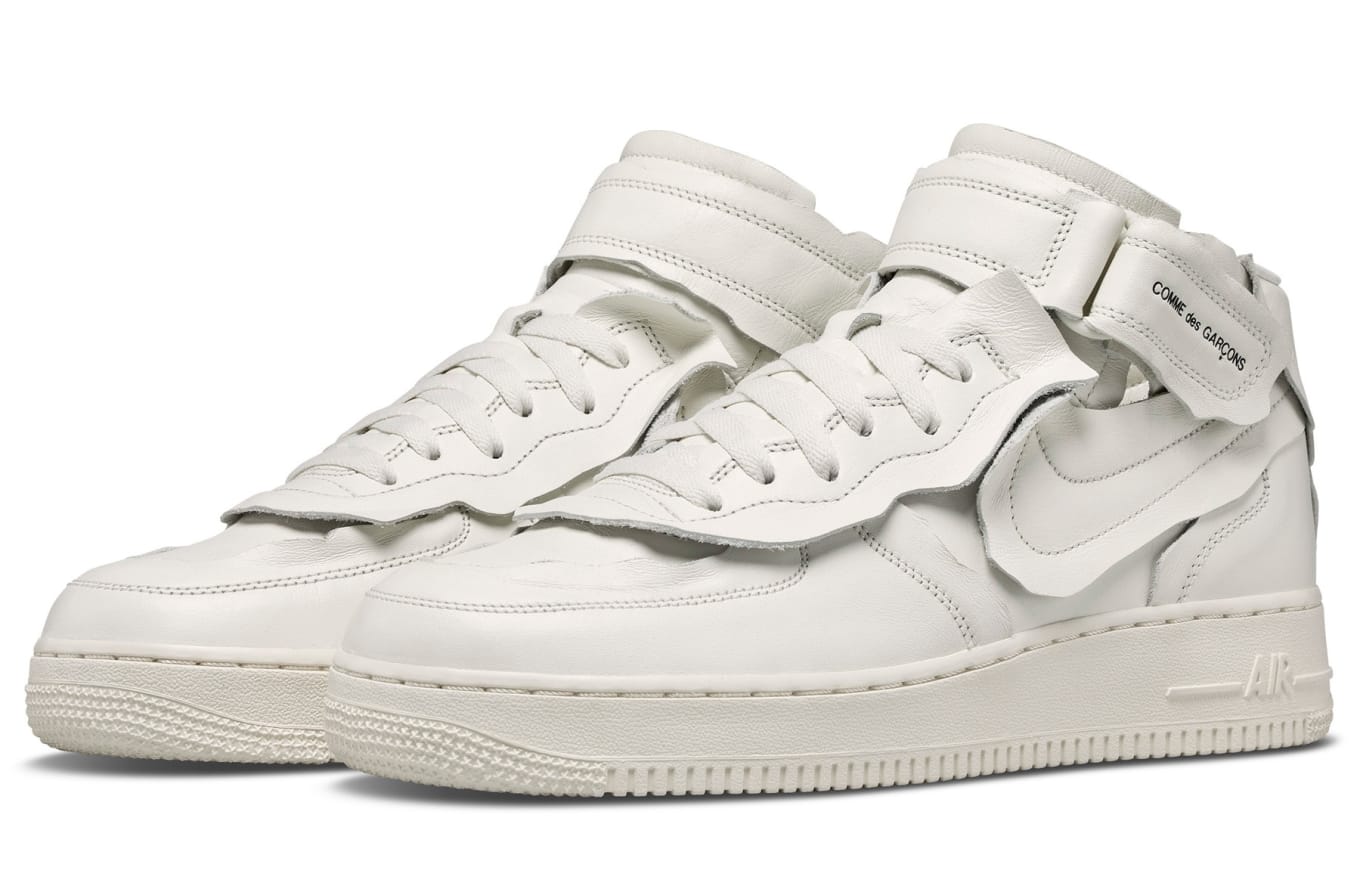 The Comme des Garcons x Nike Air Force 1 Mid White
was introduced during Paris Fashion Week and presents a modern and innovative interpretation of this key piece of streetwear. Crafted from superior leather with exposed edges for a deconstructed aesthetic, the sneakers' construction and quality are top-notch. Don't be deceived by the unconventional design of the upper. The sneakers are just as comfortable and durable thanks to the use of a Nike Air midsole.
G-Dragon PEACEMINUSONE x Nike Air Force 1 "Para-Noise" (2020)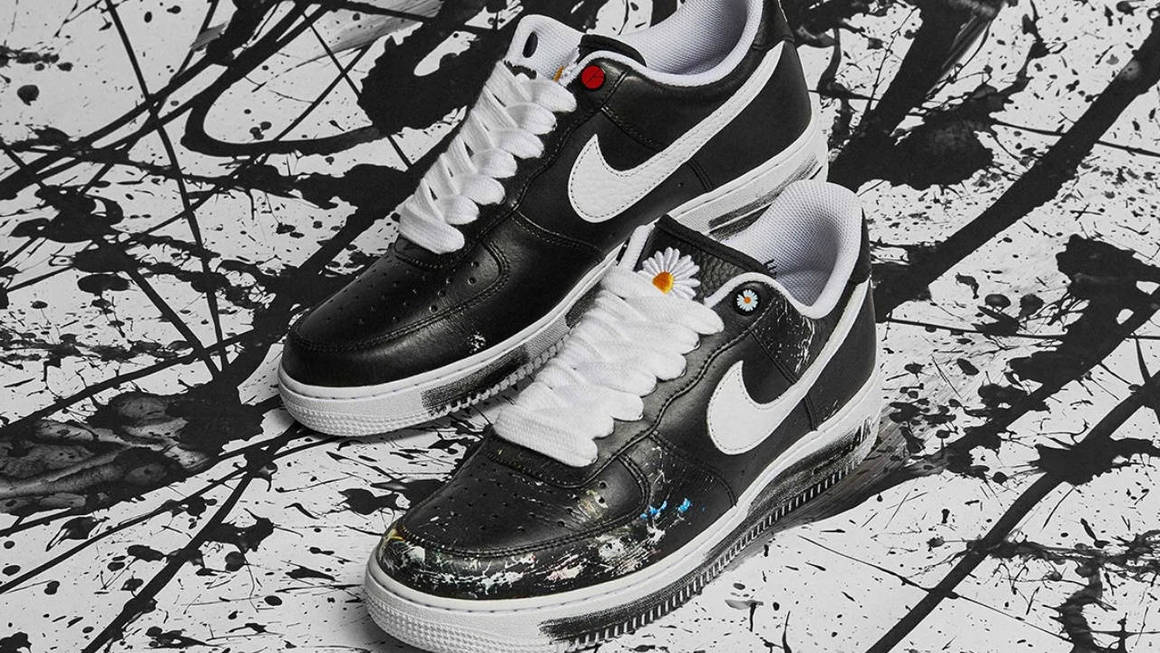 G-Dragon, a major figure in K-Pop, has teamed up with Nike for several sneaker releases, including the popular 2020 Nike AF1 "Para-Noise". The 2021 release includes a white colorway that hides intricate artwork by G-Dragon, only visible when worn.
Off-White x Nike Air Force 1 "University Gold" (2021)
The ongoing partnership between
Nike and Off-White has brought forth yet another Air Force 1 iteration,
this time designed by Abloh. Dubbed a highly exclusive release, the sneakers were only made available to Boston-area residents. This is in honor of Abloh's exhibit at the ICA Boston Museum. Boasting a bold University Gold upper with a silver swoosh, this particular colorway is the epitome of striking and unique AF1 designs.
Carhartt x Nike Air Force 1 "Ale Brown" (2018)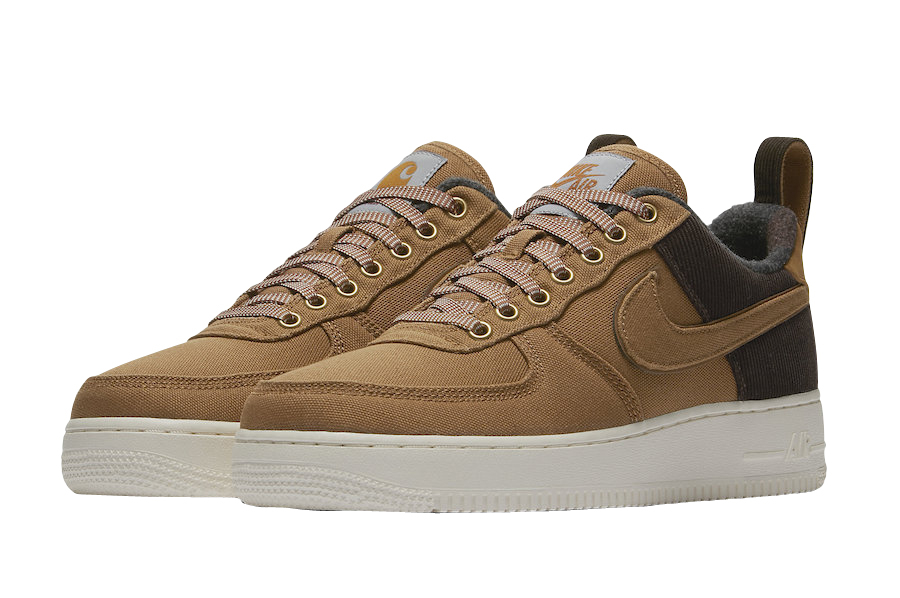 The union of workwear and streetwear is not uncommon, but the collaborations between Carhartt and Nike continually amaze us.
The Carhartt Air Force 1 "Ale Brown"
represents the apex of their combined creative efforts. Melding the most recognizable design elements from both brands, these sneakers are the quintessential footwear choice for autumn. The timeless AF1 form is revamped using Carhartt's distinctive duck canvas for a sturdy, long-lasting rendition of this beloved sneaker.
Nike Air Force 1 "Rocafella" (2006)
The Air Force 1 "Rocafella" is a great example of how a simple story can lead to a compelling colorway. Kareem "Biggs" Burke, the founder of Roc-A-Fella records, was inspired to create this shoe based on his personal memories of wearing AF1s. Instead of going for an extravagant design, he kept it simple. He added only the logo of his label on the heel of the shoe.
Cactus Plant Flea Market x Nike Air Force 1 "White Light Bone" (2020)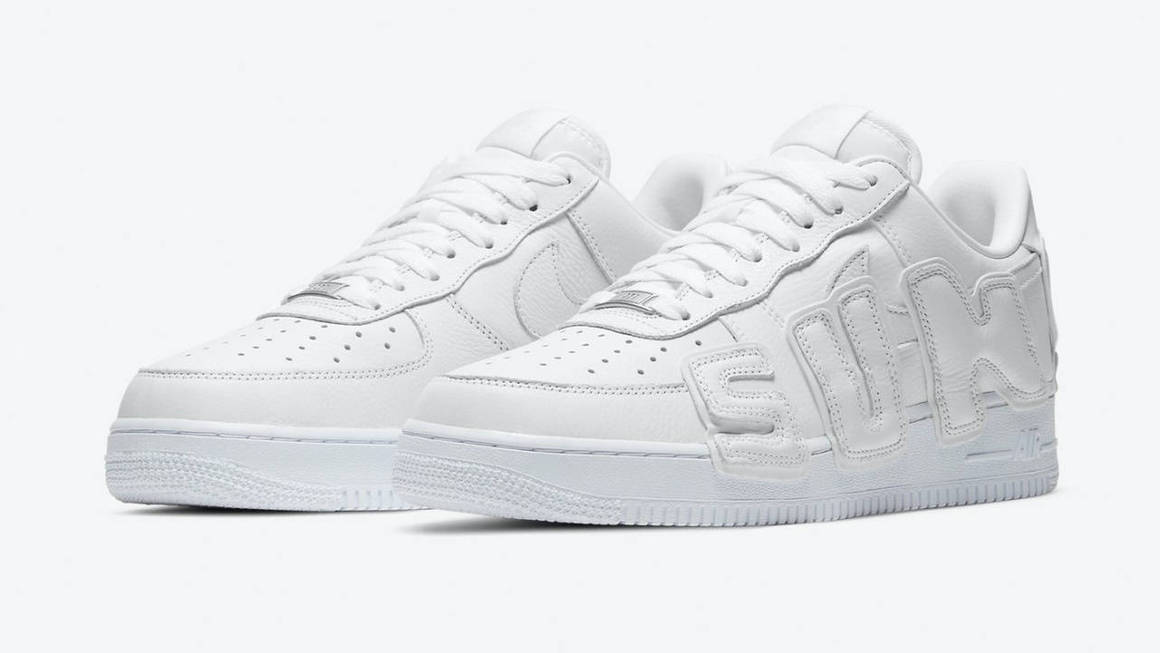 The collaboration between Nike and Cactus Plant Flea Market has produced an exceptional shoe that elevates the classic all-white colorway to new levels. The CPFM x Nike AF1 "White Light Bone" takes this timeless design and adds CPFM's distinctive touch. It features the word 'SUNSHINE' stitched across the upper. It's no surprise that this collaboration has become a favorite among the likes of
Kanye West
and Travis Scott.
Nike Lunar Force 1 Acronym 17 (2017)
Errolson Hugh's contemporary tech wear interpretation of the Nike classic has become a beloved fan favorite. It was released for Air Force 1's 35th anniversary. While the full-length zipper is a standout feature that catches the eye of this innovative silhouette. There are also several subtle details that contribute to this shoe's distinctiveness. Be sure to take a closer look to appreciate all the unique elements of this sneaker.
KITH x Nike Air Force 1 "Hawaii" (2021)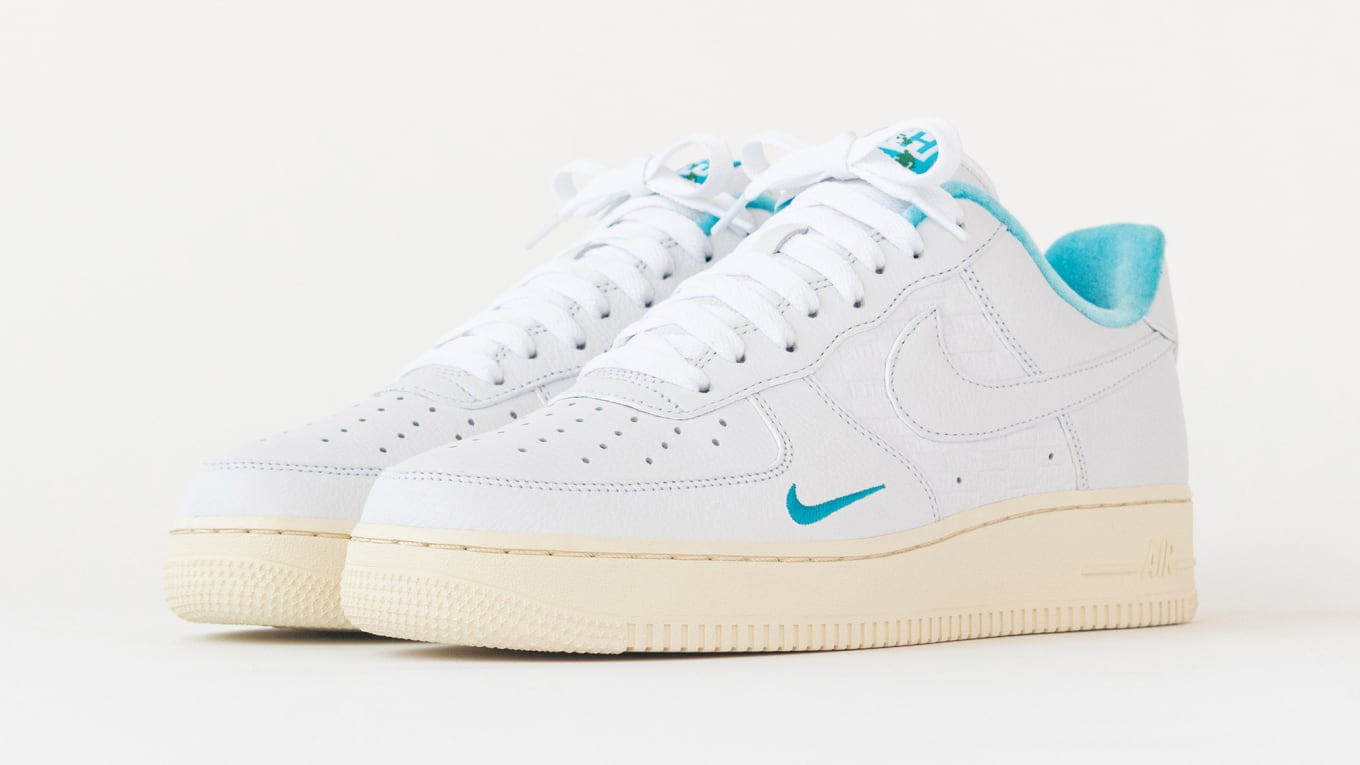 The KITH x Nike Air Force 1 "Hawaii" collaboration is a standout colorway due to its vibrant blue accents and intricate details. With so many great options available for the Air Force 1, this is a top pick. Check out our full collection of Air Force 1s and consult our Air Force 1 Size Guide when purchasing online for the perfect fit at the best price.
via:
https://www.hotnewhiphop.com/643873-the-best-nike-air-force-1-colorways-of-all-time
Share on Facebook
Comments