TWTMOB & RealNetworks Create "Win A Chance To Hang w/ DIDDY-DIRTY MONEY" Twitter Sweepstakes
TWTMOB TEAMS UP WITH REALNETWORKS TO CREATE 'WIN A CHANCE TO HANG WITH DIDDY-DIRTY MONEY' TWITTER SWEEPSTAKES

Celebrity Tweet-A-Ringback Program Allows Fans to Compete for Grand Prize




LOS ANGELES - twtMob, an in-stream ad network, will help launch the "Win a Chance to Hang with Diddy-Dirty Money" sweepstakes for RealNetworks® Inc., using a unique promotional platform on Twitter, created and managed by twtMob, promoting the ringback tone from the group's popular single "Hello Good Morning." RealNetworks and twtMob have developed the Tweet-A-Ringback program - in collaboration with U.S. mobile carriers and today's top-selling music artists - to drive awareness and sales for ringback tones.

This unique program leverages the social stream using twtMob's adjustable, efficient, performance optimizing web-based platform while offering music artists a closer fan engagement, advertising compensation and an opportunity to boost their digital content sales. twtMob offers far more than the typical paid tweet model where a celebrity is paid to tweet about a hamburger shop.

"In addition to increasing awareness for products and brands, twtMob's ad model drives membership and adds compelling content to the social network. This is a synergistic opportunity and a win for all parties," explains Marco Hansell, CEO, twtMob. "Diddy has a master brand, and he fully embraces social media. When considering the right celebrity (or group) to debut the Tweet-A-Ringback program, Diddy-Dirty Money was an obvious choice," adds Hansell.

The "Win a Chance to Hang with Diddy-Dirty Money" sweepstakes kicks off yesterday and concludes on August 17th when Diddy calls the grand prize winner and three runners-up live via Ustream (http://www.ustream.tv/ptwittytv) to award prizes, including Sean John apparel, fragrances, signed CDs and an all expense paid trip to see Diddy-Dirty Money perform live. Customers of the featured mobile carrier who have Diddy-Dirty Money's "Hello Good Morning" track set as their default ringback tone are qualified to win. Diddy-Dirty Money, is an organic trio serving up a new electro hip-hop soul funk experience featuring the talents of hip hop mogul Sean "Diddy" Combs and singers Dawn Richard & Kalenna Harper. Their album "Last Train to Paris" is coming soon. For additional sweepstakes details, visit http://www.idealsweepstakes.com/DDM_twitter. For more information about twtMob, visit http://www.twtmob.com . Social networks: Twitter, http://www.twitter.com/twtmob , Facebook, http://su.pr/786EPk.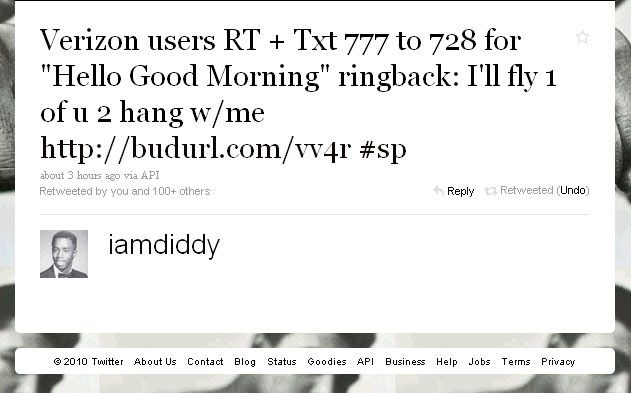 Send Blog ·
Share on Facebook ·
Bookmark on Delicious
Comments