The Kobe 6 Protro is a famous basketball shoe that honors the late Kobe Bryant, a legendary player known for his skills and commitment. These sneakers celebrate his impact on sneaker culture. With a sleek design and advanced technology, the Kobe 6 Protro delivers great performance on the court. Its simple yet stylish look has made it a must-have for athletes and sneaker fans, carrying on Kobe's influence in the sneaker world. Basketball players will love these sneakers as they're built for performance, as highlighted by Kobe's dominance on the court.




The Kobe Bryant Grinch colorway, inspired by the green sneakers he wore on Christmas Day, made a big impact on sneaker lovers and basketball fans. These bold shoes became incredibly popular due to their unique design and limited availability. The Grinch colorway represented Kobe's fearless and relentless playing style, making them highly desirable. Now, there's even more excitement as a new "Reverse Grinch" colorway is about to launch, continuing the legacy of Kobe's influence.




Read More: Air Jordan 3 x J Balvin "Medellín Sunset" On-Foot Photos





"Reverse Grinch" Nike Kobe 6 Protro
The sneakers, just like you'd imagine, have the opposite colors of the "Grinch" colorway. The upper is mostly red, making them really eye-catching. You can find bright green accents on the laces and on the Kobe logo on the tongue and sole. Both colors make these sneakers have a Christmas vibe and they're definitely designed to perform well on the court. All in all, these are awesome sneakers and fans will be glad that Nike is keeping Kobe's legacy alive with amazing footwear.
More Photos
Sneaker Bar Detroit
reports that the Nike Kobe 6 Protro "Reverse Grinch" is going to drop on December 16th. Also, the retail price is expected to be $180 when they release. Let us know what you think of this sneaker, in the comments section below. Additionally, stay tuned to 
HNHH
 for the latest news and updates from around the sneaker world. We will be sure to bring you the biggest releases from the biggest brands.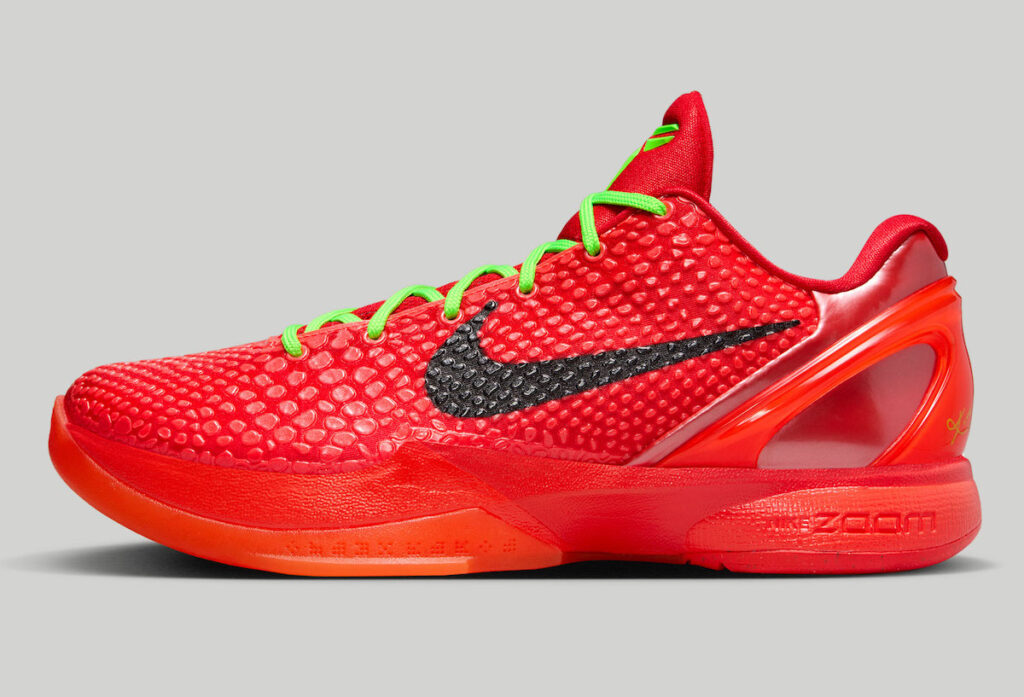 Read More:
Nike Air Max Penny 1 "Stadium Green" Officially Revealed
[
Via
]
The post
Nike Kobe 6 Protro "Reverse Grinch" Official Photos
appeared first on
HotNewHipHop
.
via:
https://www.hotnewhiphop.com/714106-nike-kobe-6-protro-reverse-grinch-official-photos
Share on Facebook
Comments