Yesterday, it was confirmed that Usher will headline the 2024 Super Bowl LVIII Halftime Show. The performance will take place at Allegiant Stadium in Paradise, Nevada, adjacent to Las Vegas, where the R&B legend has famously had a residency for the past year. This won't be the R&B giant's first appearance. Usher appeared as a special guest in the Super Bowl XLV Halftime Show back in 2011 alongside The Black Eyed Peas and Slash. Earlier this year, Rihanna took to the halftime stage, which is currently the most-watched Super Bowl performances of all time. 




The Super Bowl Halftime Show has always been a spectacle for live acts, featuring A-list artists who condense their catalogs of hits into an epic show. "Legacy artists" who have made sizable contributions to music are almost always selected to perform. A grand production is to be expected when putting together a performance of great magnitude. There have been many legendary halftime show performances, while others have been more divisive. Before Usher takes the stage in February, we are counting down the seven best Super Bowl halftime performances. Ranked from least to greatest, check out the list below.





7. Dr. Dre, Snoop Dogg, Eminem, Mary J. Blige, & Kendrick Lamar (2022)
Rappers played the Super Bowl halftime show before, but last year's performance brought hip hop to the forefront. The show's all-star lineup consisted of multiple co-headliners, including Dr. Dre, Snoop Dogg, Eminem, Mary J. Blige, and Kendrick Lamar. With an overwhelming amount of star power and hit records to perform, the first-ever hip hop halftime show certainly delivered. Each artist had their very own moment to shine before coming together to close the show with "Still D.R.E." The guest appearances from 50 Cent and Anderson .Paak added further excitement, resulting in a successful celebration of hip hop at America's largest sporting event.
Perhaps one of the most underrated halftime shows is Justin Timberlake's solo performance in 2018. It was his third appearance in a halftime show but the first of his very own. While it received mixed reception, Timberlake's show deserves to be mentioned among the best halftime shows. He made a bold choice to perform a brand-new song, let alone start his show with it. However, Justin Timberlake's presentation was filled with exciting moments. His performance contains some of the best choreography out of any halftime show ever. It was plenty extravagant despite the lack of pyrotechnics. 
Timberlake utilized almost the entire stadium, even taking the time to snap a selfie with a fan. His crowd interaction made the massive arena show feel like an intimate concert. The show was a masterful blend of the N'SYNC vocalist's solo hits. He even paid tribute to Prince with a rendition of "I Would Die 4 U." Ultimately, Timberlake's halftime show sits comfortably at No. 6 as it does not vocally stack up to the higher entries on this list. 
5. Katy Perry (2015)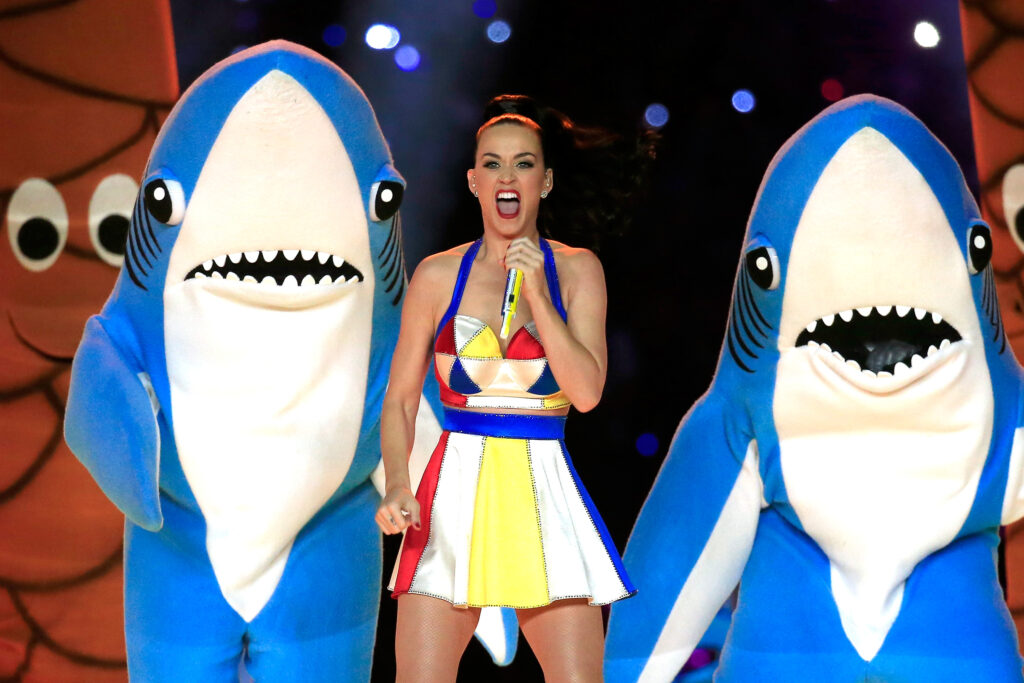 It is tough to beat entering the Super Bowl stadium on a mechanical lion. Katy Perry started her halftime performance with a bang and transformed the University of Phoenix Stadium to fit a unique aesthetic for each song. The imaginative production resulted in one of the most fun Super Bowl halftime performances. She not only rode a mechanical lion but took the NFL to the beach with "California Gurls" and flew across the stadium for "Firework." Perry also brought out Lenny Kravitz and Missy Elliott, each bringing their best to the performance. Every moment of Katy Perry's Super Bowl halftime performance was well-produced, epitomizing what a stellar pop star performance should look like.
Bruno Mars's 2014 Super Bowl halftime show put his performance skills on full display. At this time, he was a relatively newer artist, but he didn't perform as such. He started his halftime show with a skillful drum solo before launching into "Locked Out of Heaven" and numerous other hits. Mars's effortless flare and chemistry with his band made for one of the best halftime shows. He even brought out the Red Hot Chili Peppers, adding a rock element to his already thrilling stage performance. His final song, "Just The Way You Are," paid tribute to the United States Armed Forces as a touching end to an exuberant performance. An excellent singer, dancer, and overall performer, Bruno Mars's solo halftime show placed him among the legends.
3. Prince (2007)
One of the best Super Bowl halftime shows came from Prince, who delivered an exhilarating performance. On a stage shaped as his iconic "love symbol," Prince provided an electrifying display of his skills as he shredded on his guitar while interacting with the crowd via call and response. The fireworks show added another dimension to his stage production. Very few artists looked as comfortable performing in front of a packed stadium than Prince, making the Super Bowl feel like his own concert. He brought his legendary halftime show to an end in a momentous way. Prince ending his show with "Purple Rain" while it rained onto his purple-lit stage is nothing short of iconic. A halftime show to remember, Prince's 2007 performance remains at No. 3 as he also performed many covers instead of drawing from his expansive catalog of hits.
2. Beyoncé (2013)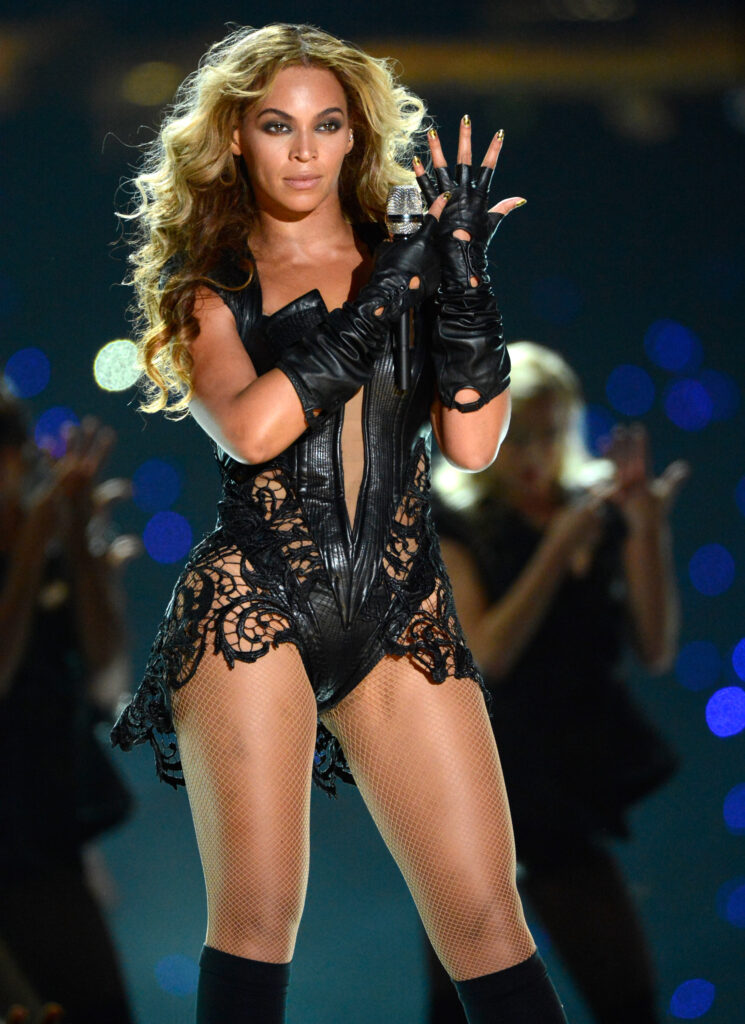 Before she would change the game with a surprise album, Beyoncé performed a sensational Super Bowl Halftime Show in 2013. Widely revered as one of the best live performers of all time, she displayed why she deserves that title. Vocally, it is the best Super Bowl Halftime Show ever as she effortlessly ran through songs like "Love on Top," "End of Time," and "Halo," which she ended with.
Her voice and choreography were on point, but Beyoncé took things to another level by surprising the audience with a Destiny's Child reunion. The iconic trio did not miss a beat as they came together for "Bootylicious," "Independent Women Part I," and "Single Ladies." Beyoncé's solo halftime show outranks her performance with Bruno Mars and Coldplay simply because she performed less songs during that 2016 show. Her ability to belt high notes, dance complex routines, and still interact with the crowd is second to none. Beyoncé has since kept her status as a performer with her show-stopping appearance in the 2016 Super Bowl halftime show and this year's Renaissance World Tour.
1. Shakira & Jennifer Lopez (2020)
Shakira and Jennifer Lopez's 2020 Super Bowl Halftime Show was everything one could ever want in a performance. The perfect combination of global pop stars, the two ran through countless hits with seamless transitions. It is undoubtedly the best overall production as J. Lo and Shakira pulled out all the stops with their dancing, set design, live band, pyrotechnics, and special guests. It is difficult to fit so many hit songs into a 13-minute performance, but nobody did it better than Shakira and Jennifer Lopez. 
Each of them separately had their moments to shine as they performed medleys of their biggest singles. Shakira danced mapalé, played the drums, and crowd surfed while Lopez pole-danced on a skyscraper-like structure. They even brought out Bad Bunny and J Balvin, creating a truly celebratory moment of Latin music and culture. Jennifer Lopez's daughter, Emmie Muñiz, appeared to sing "Born in the U.S.A." to comment on the U.S.-Mexico border crisis. Lopez also wore a cape with the Puerto Rican and American flags, representing unity. There was not one dull moment in Shakira and Jennifer Lopez's unforgettable Super Bowl halftime show, which is why it deserves the No. 1 spot.
[
via
] [
via
]
The post
Super Bowl Halftime Show: 7 Best Performances, Ranked
appeared first on
HotNewHipHop
.
via:
https://www.hotnewhiphop.com/717819-best-super-bowl-halftime-show-ranked
Share on Facebook
Comments