The peaks and valleys of this year's BET Hip Hop Awards left me speechless, so rather than commenting on every facet of the evening, I would instead like to pose 21 questions.

1. What's the purpose of the BET Hip Hop Awards in relation to the regular BET Awards?

2. What qualifies Snoop Dogg to be the host of anything besides a medical marijuana cypher?

3. Why did 2 Chainz have on a suit?

4. Why did Mayweather have a better seat than Eve?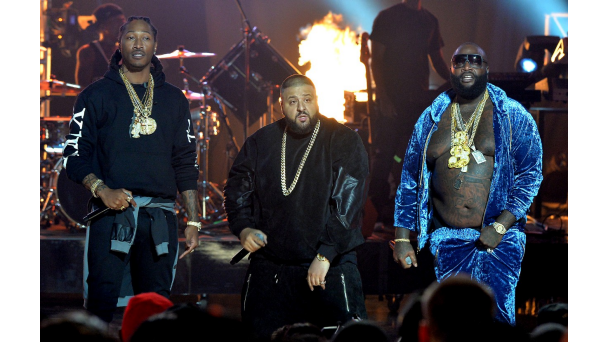 5. How many velvet tracksuits does Rick Ross have?
6. Did DJ Khaled borrow one of Rozay's tracksuits for his performance with Future?
7. Why was Rick Ross so frightened by the "cops" on stage with Kevin Hart? After all isn't that his family?
8. Shouldn't someone tell Lil' Kim that rapping requires the usage of your face muscles and since hers' are beyond the point of repair, she can no longer participate in this thing we call hip hop?
9. Was Ab-Soul's cypher the most tragic orgasmic letdown of the evening?
10. Did Kendrick really think he could get away with performing his 2012 "Money Trees" song in 2013 after all the venom he spewed about the lack of effort from hip hop artists?
11. Who was the mystery woman in Kendrick's cypher that didn't rap?
12. Are Kendrick's lyrical attacks getting out of hand?
13. Is it time for Drake to confront Kendrick?
14. Just because MC Lyte received a lifetime achievement award, did they have to fire her as their eternal announcer?
15. Besides Kendrick Lamar and Joe Budden, didn't Nick Cannon have the best cypher?
16. Did you notice Joe Budden's verse "Her vine never loops" in his cypher?
17. Where was Young Money?
18. What was Future wearing? Add Joell Ortiz to that... Oh and A$AP Rocky too.
19. Was I the only one that thought Bone Thugs-n-Harmony looked like they were still in the 90s?
20. Did BET really only give out four awards?
21. At the culmination of the GRAMMYs or Academy Awards, do they ever thank the audience for a peaceful event?
Save my lost hip hop soul and tweet me your answers @SincereSaysSo.
Share on Facebook
Comments