In the world of sports, it's not just the athletes who garner attention and admiration. Their partners, too, often become figures of interest, especially when they have their own impressive achievements. Alessa Quizon, the wife of UFC star Max Holloway, is one such individual. As of 2023, Quizon's net worth is estimated to be around $5 million, according to SportsManor. But how did she amass such wealth, and what makes her story so captivating?




Born in Makaha, Hawaii, Alessa Quizon's love for surfing began at a tender age. By the time she was seven, she was already riding the waves, and by ten, she was showcasing her skills in local competitions. Her talent didn't go unnoticed. At just 10 years old, she clinched her first contest victory. This early success paved the way for sponsorship with 'Billabong', a renowned surf brand that has supported her ever since.




Alessa's achievements in the surfing world are commendable. In 2015, she emerged victorious at the Maui and Sons Pichilemu Women's Pro. The following year, she secured the fifth position at the Rip Curl Women's Pro Bells Beach. As of 2023, she boasts a significant following on Instagram, with over 637K followers. Her journey in the World Surf League has also been noteworthy, with her current ranking standing at number 83.





The Power Couple: Max and Alessa
Max Holloway, a prominent figure in the UFC, has often credited Alessa for being his pillar of strength. The two share a heartwarming love story. They began dating in early 2020 and got engaged later that year in November. By April 16, 2022, the couple exchanged vows in a picturesque beach wedding, images of which Holloway shared on Twitter.
In an interview with Ariel Helwani on
The MMA Hour
, Holloway expressed his profound gratitude towards Alessa. He mentioned how she has made his life easier, allowing him to focus solely on
his MMA goals
. Despite her busy schedule as a professional surfer, Alessa has been a constant source of support for Holloway, a sentiment he often shares on social media.
Read More: Antonela Roccuzzo Net Worth 2023: What Is Lionel Messi's Partner Worth?
Alessa's Influence On Max's Career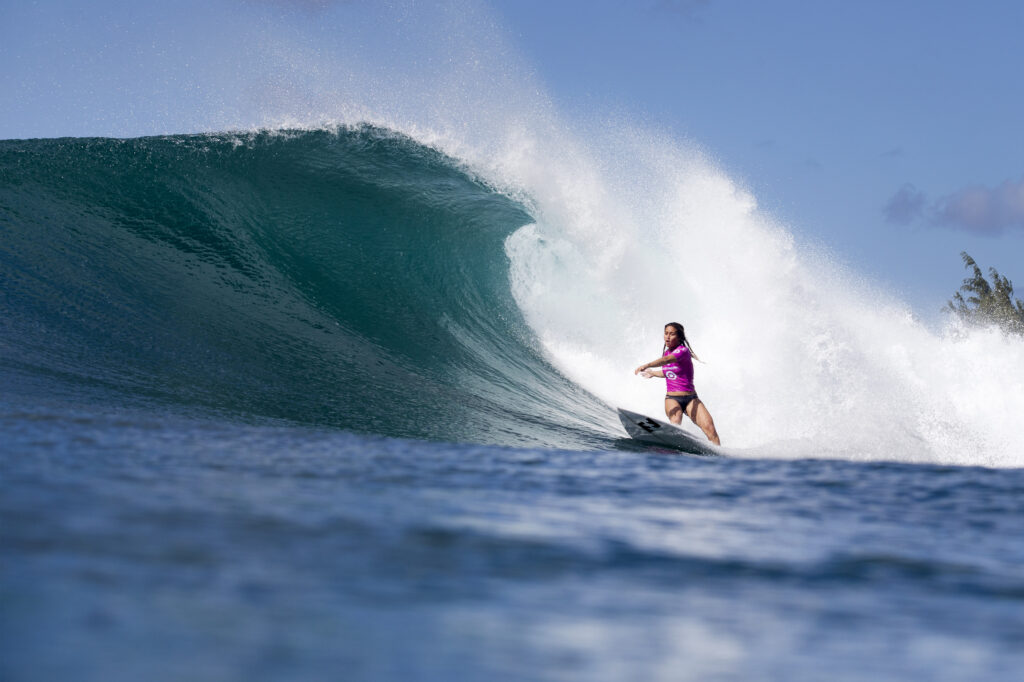 Behind every successful individual, there's often a supportive partner. In Holloway's case, that partner is Alessa. The former featherweight champion has frequently emphasized the positive impact Alessa has had on his life and career. Her unwavering support and love have been instrumental in keeping him grounded and focused on his MMA aspirations.
In the aforementioned interview, Holloway stated, "My wife made my life easier. She took a lot of things off my plate and she just makes it easier. So, all I got to do is go there, focus, do my thing." Such testimonials underscore the pivotal role Alessa plays in Holloway's life, both personally and professionally.
Read More: Rich Paul Net Worth 2023: What Is The Sports Agent Worth?
Conclusion
Alessa Quizon's net worth of $5 million in 2023 is a testament to her dedication, hard work, and passion for surfing. While she may be known to many as the wife of UFC star Max Holloway, her achievements in the surfing world stand tall on their own merit. Together, Max and Alessa form a power couple, inspiring many with their love, support, and individual accomplishments.
The post
Alessa Quizon Net Worth 2023: What Is The UFC Wife Worth?
appeared first on
HotNewHipHop
.
via:
https://www.hotnewhiphop.com/706673-alessa-quizon-net-worth
Share on Facebook
Comments