Last night in LA felt like a reunion! Blxst and Bino Rideaux performed at a sold-out show at the Novo. And the energy in the room was crazy. The two L.A. artists are currently on a 4-city tour for their collaborative Sixtape album series, and last night kicked off the third night of the tour in their hometown. Performing songs from parts one through three of their Sixtape trilogy, they had the crowd vibing the entire night. Not only did they perform just about every song from each tape, but Blxst and Bino performed some of their own popular solo records. Just when fans couldn't think the night would get better, they brought out special guests 03 Greedo, Kalan.FrFr, and BlueBucksClan to add to the night.




The anticipation in the room was high as the intro to each track played, teasing the songs, and the crowd roared with applause. The atmosphere was electric, with fans of all ages coming together to celebrate the unique blend of hip-hop and R&B that Blxst and Bino Rideaux bring to the stage. Their chemistry as a duo is undeniable. Blxst and Bino began the show with tracks from their first Sixtape, which they dropped in 2019. This initial project consisted of six songs in total, including classics like "Wake It Up," "Right Now," and "Time." Fans recited every word of each track, underscoring the deep connection between the artists and their audience.




Read More: Blxst & Remble Join Forces For New "child of GOD" Collab Track





Blxst And Bino Did Not Disappoint



 

 
 


 
 

View this post on Instagram

 


 
 
 


 
 


 
 
 



 
 

A post shared by ?????????? (@blxst)



The sequel,
Sixtape 2
, released in 2021, featured an impressive 12 tracks, doubling the number from the first installment. The energy reached new heights as the duo performed hits like "Movie," "Pop Out," and "One Of Them Ones." The standout moment from
Sixtape 2
was the performance of "She Perfect," with Bino's signature voice on the hook, making the song irresistibly catchy and fun to sing along to. Another memorable highlight was their rendition of "Program," which had the majority of the audience singing along.
In the middle of the show, Blxst and Bino teased the possibility of special guest appearances. "You know we're in LA, right?" Blxst asked the crowd, hinting at the impending surprises. Shortly after, the opening notes of
BlueBucksClan
's "Walkin In" filled the venue, and the duo rushed out to perform the song, igniting the crowd with excitement.
Read More: Blxst And Bino Rideaux Bring Their Seamless Chemistry On "Sixtape 3"
Fans Knew The Words To Each Song
Subsequently, they continued to perform songs from
Sixtape 2
before taking a pause to announce another surprise guest. Although this time, it was the California native
Kalan.FrFr
who graced the stage, causing the crowd to erupt in screams and cheers. Kalan.FrFr, known for his collaboration with Blxst on "No Stoppin," treated the audience to one of his hit tracks, "Never Lose You," from his
TwoFr 2
album in 2021. But the night was far from over. Blxst and Bino additionally closed out the show with tracks from their most recent release,
Sixtape 3
. The fan-favorite "Doin Yo Stuff" had the entire crowd vibing and singing along, creating an unforgettable moment. And just when everyone thought the surprises were over, the duo brought out the final special guest,
03 Greedo
.
Following his five-year hiatus behind bars, Westcoast rapper 03 Greedo made a triumphant return, hitting the stage to perform his hit track "Run For Yo Life." It was a heartwarming sight to see him back in action, as if he had never left. In fact, since his release, he's been back in the studio and even released a new song, "Rich On Grape Street," just last month. Fans were pretty excited to see him on stage.
Read More: 03 Greedo Is Back With "Rich On Grape Street"
It Was A Night To Remember Complete With Special Guests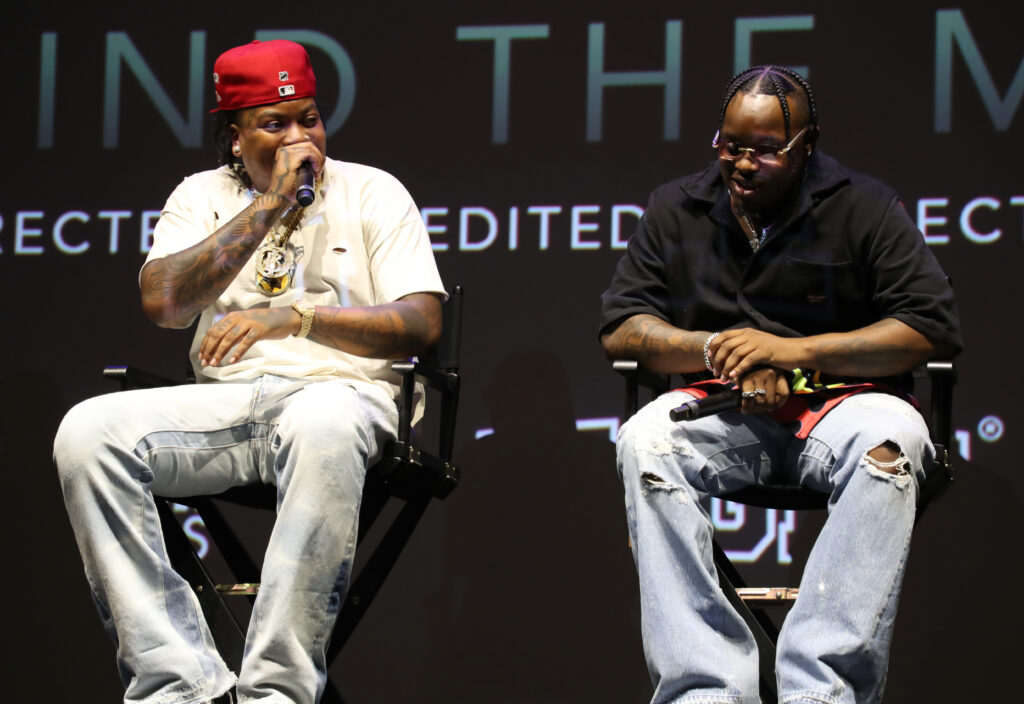 Overall, the show was a night to remember, complete with the performance of every fan-favorite track and surprise appearances that left the audience buzzing with excitement. Blxst and Bino Rideaux closed out their LA show with a bang. And as they head to San Diego for the final night of the tour, fans can only imagine what surprises they have in store. Their seamless chemistry and ability to connect with their audience make them a dynamic duo in the world of hip-hop and R&B. As the final songs played through the venue, it was evident that this night was a testament to the unique sound and community surrounding LA artists and music. Furthermore, Blxst and Bino Rideaux had not only delivered a sensational performance but had also created a sense of community among concertgoers, bridging generations through their music.
Ultimately, the Los Angeles show at the Novo will undoubtedly be a cherished memory for all who attended, and it leaves fans eagerly awaiting future collaborations and projects from these talented artists. With each performance and song, Blxst and Bino Rideaux continue to solidify their places in west coast hip-hop and R&B. So, whether it's a
Sixtape 4
or another surprise collaboration, fans want more. It's safe to say that audiences would love a
Sixtape 4
. Maybe it's on the horizon? Stay tuned for more news on
HNHH
.
Read More:
Tyga, YG, Blxst Team Up For Cali Tribute "West Coast Weekend"
The post
Blxst And Bino Rideaux Shut Down The Novo For "Sixtape" Tour
appeared first on
HotNewHipHop
.
via:
https://www.hotnewhiphop.com/715783-blxst-bino-rideaux-sixtape-tour-la
Share on Facebook
Comments