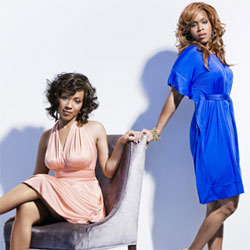 Gerald Olivari and DJ Cisco recently spoke with Mary Mary about their groupies, gospel, and the smash hit "God In Me." The ladies also gave their opinions on secular artists like Mase and DMX, and they gave advice on becoming a gospel artist.






| | |
| --- | --- |
| | "God In Me" has had tremendous success. Did you expect the song to be such a smash hit on the Urban charts? |





Tina : We had great expectations for the song. You never know how it's going to turn out, but I'm not mad the way it turned out. We're feeling real good about it.







| | |
| --- | --- |
| | How do you feel about the "God In Me" rap remixes that are out there? |





Erica : I'm with it. It's cool.



Tina : Of course we've got the remixes that we put out, but for everybody to be feeling a song enough to want to put their lil spin on it, that's tight! We love it!







| | |
| --- | --- |
| | You are both beautiful married women. Compared to your male counterparts, do you have the same groupie issues that they do? |





BOTH : (Laughs)



Erica : Not as much. I did have a guy come up to me in Canada with a scarf that had Joseph loves Erica. He told me that God said that I was his wife and I told him that he should talk to God again because I was married already.



Tina : I will say this. We have the approaches. At the end of the day, we want to be beautiful. Shoot...Ain't nobody trying to run around looking busted! So of course you do what you do. You want to feel like you're beautiful - women, men, everybody! Most of the time, people keep it in a respectful way. It's amazing when we go to do the mainstream awards. The brothers that don't really know what to say start clapping their hands and saying Praise the Lord! I tell them it's okay, but you've got to stop looking that hard, though! (Laughs)







| | |
| --- | --- |
| | Do you think since you're Gospel singers that men throw themselves at you more or less even when they know you're married? |




Erica : Less. Much Less. I'm pretty sure we don't get some of the same energy as some of our R&B female counterparts. Our presentation is not really about that so they generally don't come that strong.



Tina : The way that we present ourselves makes people come at us in a respectful way.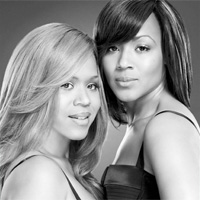 | | |
| --- | --- |
| | What is your response to people who don't like how you blend hip-hop and soul with traditional Christian messages? |



Erica : Ah-ummmm...God Bless 'em!



Tina : (Laughs). God Bless you. If you don't like it, don't buy it. But if you like it, keep buying it.



Erica : And it's funny because a lot of people who don't like it, have all of the lyrics. And my initial thought is thank you for the purchase.



Tina : Exactly!







| | |
| --- | --- |
| | What are your thoughts on secular artists like Mase or DMX who promote Christian messages, but also have very non-Christian subject matter in their music? |



Tina : We are not God to judge them. I don't think God is ever mad at anybody who has a Christian message and says Thank You God. As it relates to their lifestyle, that's something that they have to take up with God. It's not our responsibility to judge or say what we think. We don't know what their struggles are and what they're trying to overcome. If they mean well, hopefully it'll all come together.



Erica : You can't judge. Everybody has issues. You may wake up this morning and say God I want to do the right thing today and screw up by 1 o'clock.







| | |
| --- | --- |
| | What advice would give to an artist or group that would like to pursue a career in Gospel music? |



Tina : First of all, you've got to love God. You've got to believe the message that you're singing. You've got to live the message that you're singing. [The songs] aren't really to glorify you which is different from mainstream artists. When you're singing gospel music, ultimately what you're directing everybody to is God so you've got to make sure your life is true to that message. That is what will make you the most effective.









Listen to the Entire Interview!

(Mary Mary expounds more on the answers they gave above and they talk about their BE U clothing line and book.)










Send Blog ·
Share on Facebook ·
Bookmark on Delicious
Comments